AmfestExpo'18 Producer Profile: Dr Kunle 'K-Sticks' Pinmiloye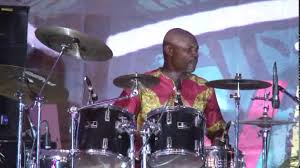 One thing that the  advent of the internet has brought to Africa has been to expose unique African music to the world. These days African music has penetrated the international scene so much that African acts are now signing multi-million dollar recording contracts with foreign labels . Therefore if   you are a musician or a recording artist looking to expand your reach to a global audience, or you are a record label seeking to work on the international scene or perhaps you are business man looking to for opportunities to do business in Nigerian music on the international stage, then you should join Kunle 'K-sticks' Pinmiloye at AmfestExpo, Lagos 2018.
Dr Kunle Pimiloye is a renowned, Music producer, Drummer and Choir Director who has travelled around the world Training choirs and Performing. Kunle  Pinmiloye or K-Sticks as he is popularly known, is a lecturer in the Department of Music, Obafemi Awolowo University Ile-Ife and  holds a Bachelor of Arts, Masters of Arts,  and a Ph.D. all in music. He also holds a Certificate in Music from the  Association Board of Royal School of Music, London. Grade I. Apart from his academic qualifications, he is also a member of the following professional bodies: Gospel Music Artistes of Nigeria (GOMAN), Performing Music Association of Nigeria (PMAN), Musical Society of Nigeria, (MUSON) and Association of Nigerian Musicologists (ANIM).He has worked as a sound engineer, Band director, Drummer/ Drum Instructor/ Trap Drum Instructor, Music Instructor, Album Producer in prominent churches all around the world  like DayStar Christian Centre, Lagos ,Nigeria,  Rhema Word Church Los Angeles, Archbishop Vinning Memorial Church, Ikeja, Lagos.
K-Sticks will be bringing a treasure trove of experience gained from working both as an academic and as a professional in the music business, as well as attending conferences on music all over the world to bear as a Producer  for the AmfestExpo2018 Music day. He will be showcasing his skills as a producer and also be  sharing his thoughts with other panelists at AmfestExpo2018  on topics like what constitute a standard international  performance for the Africa Artiste, what the international market expects from the African performer,  international market penetration strategies for African Artistes and African Music.