Soun Of Ogbomoso Endorses AmFestExpo2018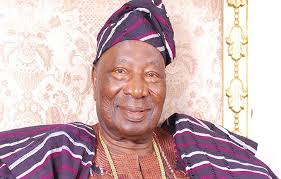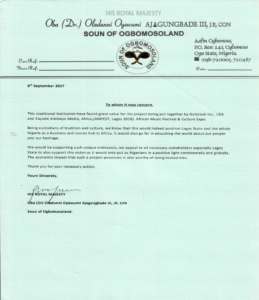 One of the most prominent traditional rulers in Oyo state, The Soun of Ogbomoso, Oba (Dr.) Oladunni Oyewunmi Ajagungbade III has declared his endorsement  for AmfestExpo2018.
Oba Oyewunmi, who was crowned in 1976, and is currently one of the longest serving traditional rulers in Nigeria, is a truly cosmopolitan Royal Father, having worked for the French owned firm, CFAO and traveled abroad as far as  Germany, France, the United Kingdom as well as the United States of America before he was crowned Oba. This perhaps why he can see the potential economic impact of AmfestExpo '18 for Lagos state in particular and Nigeria as a whole and how the event will expose the rich culture and tradition of the country to the international market
The full statement from the palace of the Soun reads thus:
The traditional institution have (sic) found great value in the project being put together by Goldrock Inc (USA) and Kayode Adebayo Media, Africa (AMFESTEXPO Lagos 2018) Africa Music Festival and cultural Expo.

Being custodians of tradition and culture, we know that this would indeed position Lagos State  and the whole (sic) Nigeria as a business and tourist hub In Africa. It will also go far in educating the world about our heritage.
The statement concludes that the palace of the Soun will be:
supporting such unique endeavours, we  appeal to all necessary stakeholders especially Lagos State to support this vision as it would only put us Nigeria in a positive light continentally and globally. The economic impact that such a project possesses is worthy of being looked into.